Dr. Howell's Dental Discussion
Posts for: March, 2015
By James B. Howell, D.M.D.
March 25, 2015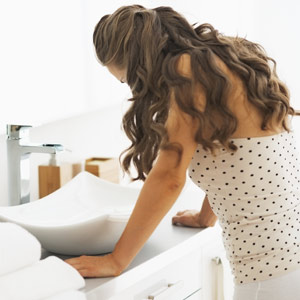 While most dental problems are caused by disease or trauma, sometimes the root problem is psychological. Such is the case with bulimia nervosa, an eating disorder that could contribute to dental erosion.
Dental erosion is the loss of mineral structure from tooth enamel caused by elevated levels of acid in the mouth, which can increase the risk for decay and eventual tooth loss. While elevated acid levels are usually related to inadequate oral hygiene or over-consumption of acidic foods and beverages, the practice of self-induced vomiting after food binging by bulimic patients may also cause it. Some of the strong stomach acid brought up by vomiting may remain in the mouth afterward, which can be particularly damaging to tooth enamel.
It's often possible to detect bulimia-related erosion during dental exams. The bottom teeth are often shielded by the tongue during vomiting, so erosion may be more pronounced on the unshielded upper front teeth. The salivary glands may become enlarged, giving a puffy appearance to the sides of the face below the ears. The back of the mouth can also appear red and swollen from the use of fingers or objects to induce vomiting.
Self-induced vomiting may not be the only cause for dental erosion for bulimics. Because the disorder causes an unhealthy focus on body image, bulimics may become obsessed with oral hygiene and go overboard with brushing and flossing. Aggressive brushing (especially just after throwing up when the tooth enamel may be softened) can also damage enamel and gum tissue.
Treatment must involve both a short — and long-term approach. Besides immediate treatment for dental erosion, a bulimic patient can minimize the effect of acid after vomiting by not brushing immediately but rinsing instead with water, mixed possibly with a little baking soda to help neutralize the acid. In the long-term, though, the eating disorder itself must be addressed. Your family doctor is an excellent starting point; you can also gain a great deal of information, both about eating disorders and treatment referrals, from the National Eating Disorders Association at their website, www.nationaleatingdisorders.org.
The effects of bulimia are devastating to mental and physical well-being, and no less to dental health. The sooner the disorder can be treated the better the person's chance of restoring health to their mind, body — and mouth.
If you would like more information on the effect of eating disorders on oral health, please contact us or schedule an appointment for a consultation. You can also learn more about this topic by reading the Dear Doctor magazine article "Bulimia, Anorexia & Oral Health."
By James B. Howell, D.M.D.
March 09, 2015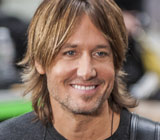 He once lived in Australia, wore his hair in a mullet, and played guitar in a band called The Ranch. Today, country music star Keith Urban looks different than he did when he started out — and it's not just the mullet that's changed. As before-and-after pictures show, he's had a smile makeover. His teeth, which were dull yellow in color, and used to have a large gap in front, are now white and shiny. The gap is still there — though it has been reduced to a more modest size. How did he manage to upgrade his image, yet keep part of his signature "look" intact?
Cosmetic dentistry has a number of ways to improve the appearance of a smile like Keith's. One is tooth whitening. It's a simple procedure that can be done in our office or at your home; either way, it's an effective treatment that offers great value. In-office whitening, using the most concentrated solutions under our direct supervision, will give you the fastest results. We can also prepare a take-home kit, with custom-made trays and safe bleaching gels you can use at home. You'll get similar results, but it will take a bit longer.
Of course, whitening isn't permanent (though it can be repeated when necessary); not all teeth can be lightened as much as you might like; and it doesn't correct gaps or unevenness. There's another treatment that does, however: dental veneers. These are wafer-thin coverings made of porcelain, which are bonded to the prepared surfaces of your teeth. They are available in a number of shades — from natural to "Hollywood white" — and can even hide minor chips or spacing problems. That's why veneers are often the treatment of choice when you're looking for a "red carpet" smile.
Perhaps the best thing about veneers is that they give you plenty of choices when it comes to designing your smile. You can choose how white you'd like your smile to be, and even fix some "flaws" — or not! So how much you choose to close that gap in your teeth is up to you… but if you're asking our opinion, the mullet has to go.
If you would like more information on dental veneers, please contact us or schedule an appointment for a consultation. You can learn more about this topic in the Dear Doctor magazine articles "Beautiful Smiles by Design" and "Porcelain Veneers."
Louisville, KY Cosmetic Dentistry
James B. Howell, D.M.D.
3936 Dutchmans Lane
Louisville
,
KY
40207
(502) 899-7766