Dr. Howell's Dental Discussion
Posts for tag: periodontal disease
By James B. Howell, D.M.D.
April 10, 2017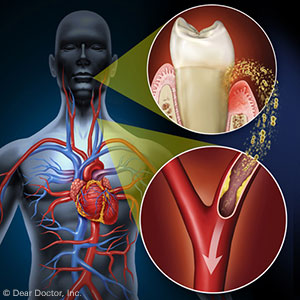 If you have periodontal (gum) disease, it's important for you to know its effects aren't limited to your mouth. A number of studies demonstrate gum disease can affect the rest of your body — and what may be going on elsewhere could likewise stimulate gum disease.
Here are 3 diseases or conditions that seem to share a link with gum disease.
Diabetes. This chronic disease results from the body's inability to interact properly with insulin, the hormone necessary for turning glucose (sugar) into energy, or producing enough of it. There's clear evidence that having diabetes increases your risk of gum disease and vice-versa. If you have diabetes, it's important that you keep it under control for your gum's sake as much as for your overall health.
Cardiovascular disease. Like diabetes, this group of heart and blood vessel diseases has a related characteristic with gum disease: inflammation. This natural function of the immune system limits tissue damage caused by disease or injury. But in both CVD and gum disease, inflammation can become chronic and itself cause damage. Further, some types of bacteria associated with gum disease can contribute to a higher risk of CVD. Minimizing gum disease occurrence with good oral hygiene could positively impact your risk of CVD.
Pregnancy. While certainly not a disease, pregnancy does trigger hormonal changes in the mother that in turn could elevate her risk of gum disease, particularly pregnancy gingivitis. Not only does this pose problems for the mother's teeth and gums, some studies connect gum disease to the increased possibility of early, pre-term birth. A sharper focus on dental care during pregnancy not only benefits the mother but may also be important for the health of the baby.
These aren't the only conditions that can be affected by gum disease: others like osteoporosis, respiratory disease or rheumatoid arthritis also share links with the disease. If you have any systemic condition like these, it pays to be extra vigilant in preventing and treating gum disease.
If you would like more information on periodontal (gum) disease, please contact us or schedule an appointment for a consultation. You can also learn more about this topic by reading the Dear Doctor magazine article "Good Oral Health Leads to Better Health Overall."
By James B. Howell, D.M.D.
May 16, 2014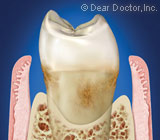 Periodontal gum disease is a relentless enemy to dental health that destroys gum tissue and the teeth's attachment to the jaw. As it ravages these tissues it often creates periodontal pockets, hidden spaces between the teeth and bone that fill with infectious bacteria capable of accelerating damage to teeth and gums.
The primary treatment goal for gum disease is to create an environment that is cleansable below the gum tissues, in order to remove as much bacterial plaque from the tooth, gum and root surfaces as possible. Periodontal pockets pose a challenge to this goal as they are extremely difficult to access using standard cleaning and root planing techniques the deeper they become. Cleaning and treating these deep pockets, however, is made easier with a procedure known as periodontal flap surgery.
This procedure is not a cure, but rather a way to access the interior of a periodontal pocket to remove infection and diseased tissue. In effect, we create an opening — like the hinged flap of a letter envelope — to gain entry into the affected pocket. Not only does this opening enable us to clean out infection within the pocket, but it can also facilitate cleaning the tooth's root surfaces.
It also provides an opening for us to insert grafting materials to regenerate lost bone and tissue. It's nearly impossible for this tissue regeneration to occur if bacterial infection and inflammation persist in the affected area. Periodontal flap surgery provides us the critical access we need to effectively remove these contaminants that stymie healthy growth.
This procedure is normally performed with local anesthesia and usually results in little bleeding and minimal post-operative effects. Once we have finished any procedures to clean the pocket and other affected tissues, or installed grafts for future bone and tissue growth, we would then seal the flap back against the tooth using sutures and gentle pressure to promote blood clotting around the edges. We might also install a moldable dressing that re-secures the edges of the flap to their proper position and prevents food debris from interfering with healing.
Periodontal flap surgery is the result of years of research to find the best techniques for treating gum disease. It's one of many weapons in our arsenal for winning the war against decay and gum disease, and helping you realize a healthier dental future.
If you would like more information on periodontal flap surgery, please contact us or schedule an appointment for a consultation. You can also learn more about this topic by reading the Dear Doctor magazine article "Periodontal Flap Surgery."
By James B. Howell, D.M.D.
December 27, 2013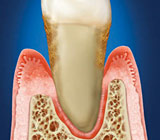 Loose teeth are an exciting rite of passage in childhood; in adulthood, they're anything but. In fact, a permanent tooth that feels loose is a sign that you need to make an appointment with our office right away. The quicker we act, the better chance we will have of saving the tooth.
What causes loose teeth? In the absence of a traumatic dental injury, the culprit is usually periodontal (gum) disease. This is a bacterial infection of the gum and/or bone tissues that surround and support your teeth. The infection is caused by bacterial plaque that sits on your teeth in the absence of effective oral hygiene. Over time, periodontal disease will cause gum tissue and eventually bone to detach from the teeth. As more of this supporting tissue is lost, the teeth will gradually become loose and (if the disease remains untreated) eventually fall out.
Loose teeth can also be caused by a clenching or grinding habit that generates too much biting force. This force can stretch the periodontal ligaments that join the teeth to the supporting bone, making your teeth looser.
Whether the cause of your tooth looseness is biological (gum disease) or mechanical (too much force), treatments are available here at the dental office. The first step in treating gum disease is a thorough cleaning to remove plaque and harder deposits on the teeth (tartar or calculus); this includes the tooth-root surfaces beneath the gum line. You will also be instructed on effective oral hygiene techniques and products to use at home. This type of therapy will promote healing of the gums that will cause some tightening of the teeth. Additional treatments will probably be necessary to gain the maximum healing response to allow the teeth to be most stable. For example, we may also want to temporarily or permanently splint the loose tooth or teeth to other teeth so that biting forces do not loosen them further.
There are other mechanical approaches we can employ to prevent a loose tooth from receiving too much force. For example, we can reshape the tooth by removing tiny amounts of its surface enamel in order to change the way upper and lower teeth contact each other. We also may suggest a custom-made nightguard to protect your teeth if you have a nighttime grinding habit.
The most important thing to know about loose teeth is that it's crucial to intervene quickly. So if you are experiencing tooth looseness, please contact us or schedule an appointment for a consultation. You can learn more by reading the Dear Doctor magazine articles "Loose Teeth" and "Treatment for Loose Teeth."
Louisville, KY Cosmetic Dentistry
James B. Howell, D.M.D.
3936 Dutchmans Lane
Louisville
,
KY
40207
(502) 899-7766