Dr. Howell's Dental Discussion
Posts for: March, 2013
By James B. Howell, D.M.D.
March 22, 2013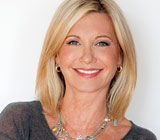 Singer Olivia Newton-John's daughter Chloe is now a lovely, grown woman, but Olivia recently recounted to Dear Doctor magazine a rather creative method she found to sooth Chloe's teething troubles many years ago.
"When Chloe was a baby and teething I remember using a frozen bagel for her sore gums," Olivia said. "She loved it!"
Cold is often very soothing to a teething child's gums. In fact, the American Academy of Pediatric Dentistry (AAPD) recommends using a clean, chilled, rubber teething ring, or cold wet washcloth. Chilled pacifiers can also be helpful. Be sure not to freeze teething rings or pacifiers as ice can actually burn sensitive mouth tissues.
Older teethers can sometimes find relieve from cold foods such as popsicles (or bagels!) but make sure your child eats these sugar-containing foods only at mealtimes so as not to promote tooth decay.
If your baby has not yet begun the teething (or tooth-eruption) process, you can expect it to begin usually between six and nine months. It may, however, start as early as three months or as late as twelve months.
Teething symptoms vary among children, as does the length of time it takes for a tooth to make its appearance. But many parents notice the following signs:
Irritability
Biting and gnawing
Gum swelling
Chin (facial) rash
Disrupted sleeping patterns
Ear rubbing
Drooling
Decreased appetite
These symptoms are usually most bothersome during the week that the tooth is breaking (erupting) through the gums, starting about four days before and lasting about three days after the tooth appears.
Occasionally, teething discomfort can be considerable. If that is the case with your baby, you can give her or him acetaminophen or ibuprofen in the appropriate dose (check with your pharmacist if you're not sure what that is). The medicine should be swallowed — not massaged into the gums, as this can also burn. Numbing agents should not be used for children under 2, except under the advice and supervision of a healthcare professional.
If you would like to learn more about teething or any other child-related oral health issue, please contact us or schedule an appointment for a consultation. If you would like to read Dear Doctor's entire interview with Olivia Newton-John, please see "Olivia Newton-John." Dear Doctor also has more on "Teething Troubles."
By James B. Howell, D.M.D.
March 07, 2013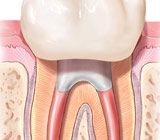 We pride ourselves on educating our patients regarding oral health and dental treatment. This is why we are providing you with these frequently asked questions (FAQs) regarding root canals. Our belief is that by being informed about this important dental treatment, you will be more comfortable should you ever require a root canal.
Exactly what is root canal treatment?
A root canal treatment is an endodontic procedure ("endo" – inside: "dont" – tooth) in which the living pulp tissues are housed, including the nerves. When a severely decayed or damaged tooth begins to hurt, it is because the pulpal tissues are inflamed or infected, and the response of the nerves is varying degrees of pain — letting you know something is wrong. If the pulp is dead or dying it must be removed and the root canal of the tooth is filled and sealed to stop infection and to save the tooth.
Who typically performs them?
Endodontics is a specialty within dentistry that specifically deals with the diagnosis and treatment of diseases and disorders of root canal issues affecting a tooth's root or nerve. While endodontists are dentists who specialize in root canal treatment, general dentists may also perform root canal treatment and are usually the dentists you will consult with when you first have tooth pain and who will refer you to an endodontist if necessary.
What are the symptoms of a root canal infection?
Root canal symptoms and the character of the pain may vary depending on the cause. For example, symptoms may be:
Sharp, acute pain that is difficult to pinpoint
Intense pain that occurs when biting down on the tooth or food
Lingering pain after eating either hot or cold foods
Dull ache and pressure
Tenderness accompanied by swelling in the nearby gums
Does root canal treatment hurt?
A common misconception is that a root canal treatment is painful when, in actuality, it is quite the opposite. The pain associated with a root canal occurs prior to treatment and is relieved by it — not visa versa.
If you have tooth pain, you may or may not need a root canal treatment. Contact us today (before your symptoms get worse) and schedule an appointment to find out what's causing the problem. And to learn more about the signs, symptoms, and treatments for a root canal, read the article "Common Concerns About Root Canal Treatment."
Louisville, KY Cosmetic Dentistry
James B. Howell, D.M.D.
3936 Dutchmans Lane
Louisville
,
KY
40207
(502) 899-7766