Dr. Howell's Dental Discussion
Posts for: August, 2013
By James B. Howell, D.M.D.
August 21, 2013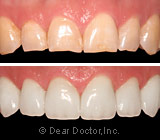 Smiling feels great and makes others feel good as well. But if you are self-conscious about exposing teeth that are showing imperfections or excessive wear, you may not be smiling as broadly as you should be. Fortunately, there are ways to correct the esthetic issues that might be holding you back. One involves covering the natural tooth partly or completely with a natural-looking but flawless "facade."
Perhaps you've heard about dental veneers and crowns? Both can achieve similar, eye-pleasing results by changing the shape and color of your teeth and even helping to compensate for uneven spacing or alignment. And both are custom-designed for your teeth. So what's the difference and which is right for you?
One distinguishing feature is the amount of tooth each covers. A veneer is a wafer-thin layer of dental porcelain that bonds to the front of your tooth. A crown, also fashioned from dental porcelain, fits over and covers the entire existing tooth, like a hood, right down to the gum. With either approach, to ensure the best, most natural fit, some of the natural tooth structure must be reduced by a minimal amount. In the case of veneers, up to 1 mm of tooth enamel — about the thinness of a fingernail — is removed. Crowns are generally thicker than veneers, so in their case the removal of at least 2 mm of tooth is needed.
Another difference between veneers and crowns is the situations in which one might be more suitable than the other to achieve the desired results. For example, a crown may be necessary when too much tooth structure has been lost to decay or other problems, or for use on back teeth that have to withstand greater impact from biting and chewing. A dental professional can make a recommendation based on your goals, the condition of the tooth or teeth in question, and other factors.
Either way, both veneers and crowns are an excellent solution for a range of esthetic concerns — from poor tooth color/staining, chips and cracks, and excessive wear at the bottom of teeth (from bruxism, a term for teeth grinding) to making small teeth look larger, closing minor gaps between teeth, and making slight corrections in alignment.
If you would like more information about veneers and crowns, please contact us or schedule an appointment for a consultation. You can also learn more about this topic by reading the Dear Doctor magazine articles "Porcelain Crowns & Veneers" and "Porcelain Veneers: Strength & Beauty As Never Before."
By James B. Howell, D.M.D.
August 06, 2013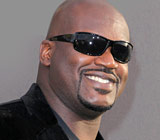 You may think snoring is a minor problem, but it can be a lot more than that. Just ask hoops star Shaquille O'Neal, whose rambunctious snoring bothered his girlfriend enough for her to suspect a health problem. Her observations eventually led to Shaq's diagnosis of moderate Obstructive Sleep Apnea (OSA), which occurs when the soft tissue structures at the back of a person's throat, including the tongue, partially close off the upper airway and prevent air from moving into the lungs during sleep. Sometimes airflow can be blocked completely for 10 or more seconds.
When air flow is reduced, blood oxygen levels drop. This leads to brief waking episodes known as "micro-arousals," which can happen sometimes more than 50 times an hour. The sleeper might not even be aware of this, even while gasping for air. Micro-arousals prevent the person from ever reaching deep, restful sleep.
Besides suffering from excessive daytime sleepiness, studies show sleep apnea patients are at higher risks of heart attacks, congestive heart failure, high blood pressure, brain damage and strokes. People with sleep apnea also have a higher incidence of work and driving-related accidents.
OSA can be treated in a few different ways. On the advice of his doctor, Shaq opted for a Continuous Positive Airway Pressure (CPAP) machine, which generates pressurized air delivered through a face mask worn while sleeping. The force of the pressurized air opens the airway (windpipe) in the same way as blowing into a balloon does.
For people with milder OSA, or who find they can't tolerate wearing a mask during sleep, an oral appliance supplied by a dental professional might be the answer. Oral appliances are worn in the mouth and are designed to gently reposition the jaw and move the tongue forward away from the back of the throat. Success rates of 80% or more have been reported using oral appliances, depending on the severity of the OSA.
If you would like more information on sleep apnea, please contact us or schedule an appointment for a consultation. You can learn more about sleep apnea by reading the Dear Doctor magazine article "Snoring & Sleep Apnea." Dear Doctor also has more on "Sleep Disorders & Dentistry."
Louisville, KY Cosmetic Dentistry
James B. Howell, D.M.D.
3936 Dutchmans Lane
Louisville
,
KY
40207
(502) 899-7766