Dr. Howell's Dental Discussion
Posts for: February, 2014
By James B. Howell, D.M.D
February 25, 2014
Often, when our Louisville patients think of root canal therapy they associate it with pain. The pain experienced is from the infected tooth, which is then relieved through root canal therapy. Known to restore and save an average of 17 million teeth each year, root canal treatment in Louisville helps to keep your tooth and stop the pain, which is always better than having a tooth extraction.
Understanding Root Canal Therapy
Your tooth is made up of a hard protective shell called enamel, a softer middle layer called dentin and a soft tissue inner layer called dental pulp. Composed of nerve tissue, lymph tissue and blood vessels, the dental pulp is considered a vital part of your tooth. If your dental pulp is severely damaged, the tooth begins to die. Root canal therapy is often the best treatment to prevent and eliminate infection, preventing tooth loss.
Signs you might need a root canal include:
Minimal to severe pain
Tooth discoloration
Swelling and irritation in the surrounding gum tissue
Signs of infection visible on a radiograph
Root canal
therapy allows dentists to save your teeth
in the safest way possible and is used to find the cause and treat the problems of the dental pulp. The narrow channels beneath the pulp chamber in the inner part of your tooth are reshaped and cleaned through root canal therapy and the roots are filled with materials that are designed to prevent pain and infection from recurring.
At the initial onset of any pain or discomfort with your teeth, consult our office to discuss your treatment options. Our office will advise our patients in Louisville as to how root canal treatment can help stop your pain and treat the infection.
By James B. Howell, D.M.D.
February 13, 2014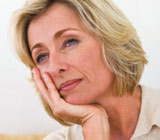 Many people suffer from problems with the temporomandibular joint (TMJ); this can result in chronic pain and severely limit the function of the jaw. Yet exactly what causes the problems, how best to treat them… and even the precise number of people affected (estimates range from 10 million to 36 million) are hotly debated topics.
There are, however, a few common threads that have emerged from a recent survey of people who suffer from temporomandibular joint disorders (TMJD). Some of them are surprising: For example, most sufferers are women of childbearing age. And two-thirds of those surveyed say they experienced three or more associated health problems along with TMJD; these include fibromyalgia, chronic fatigue syndrome, irritable bowel syndrome, rheumatoid arthritis, chronic headaches, depression, and sleep disturbances. The links between these threads aren't yet clear.
The survey also revealed some interesting facts about treating TMJD. One of the most conservative treatments — thermal therapy (hot or cold compresses) — was found by 91% to offer the most effective relief of symptoms. By contrast, the most invasive treatmentâ??surgeryâ??was a mixed bag: A slightly higher percentage reported that surgery actually made the condition worse compared to those who said it made them better.
So what should you do if you think you may have TMJD? For starters, it's certainly a good idea to see a dentist to rule out other conditions with similar symptoms. If you do have TMJD, treatment should always begin with some conservative therapies: moist heat or cold packs, along with over-the-counter anti-inflammatory medications if you can tolerate them. Eating a softer diet, temporarily, may also help. If you're considering more invasive treatments, however, be sure you understand all the pros and cons — and the alternatives — before you act. And be sure to get a second opinion before surgery.
If you would like more information about temporomandibular joint disorders (TMJD), call our office for a consultation. You can learn more in the Dear Doctor magazine articles "Chronic Jaw Pain And Associated Conditions" and "Seeking Relief from TMD."
Louisville, KY Cosmetic Dentistry
James B. Howell, D.M.D.
3936 Dutchmans Lane
Louisville
,
KY
40207
(502) 899-7766