Dr. Howell's Dental Discussion
Posts for: September, 2014
By James B. Howell, D.M.D.
September 23, 2014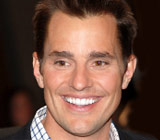 Can having a great smile help land you a high-level business position, a TV show, and a bride? Maybe — at least if you go by the example of Bill Rancic.
The 42-year-old Chicago native is well known as the first winner of NBC-TV's The Apprentice, a reality show where contestants vied for a job with Donald Trump's organization. Shortly after his selection as Trump's newest hire, Rancic met his future wife, Giuliana, when she interviewed him for E! News. Flash forward a few years, and the couple is now hosting their own reality TV show on Style network.
So how much has Bill's winning smile helped?
"I think a great smile says a lot about a person — especially in our professions," Bill recently said in an interview with Dear Doctor magazine. He also mentioned that having a few cosmetic dental treatments helped him close the deal.
As a child, Bill wore braces to correct an overbite. For both kids and adults, orthodontic treatment is often the first step toward getting the smile of your dreams. The practice of orthodontics has changed dramatically in the past 20 years and there are now a number of choices available in lieu of traditional metal braces.
Not Your Father's Braces
For those who need to maintain a "professional" image, tooth-colored braces offer a less noticeable way to straighten your teeth. Lingual braces are another option that's suitable in some situations. These are truly invisible: bonded on the tongue side of the teeth, they can't be seen from the front.
Or, you may be able to forego braces altogether and use a series of clear plastic aligners to gradually bring your teeth into alignment. Not only are these difficult to notice, but they can be completely removed for short periods of time — at important board meetings, for example.
Red-Carpet Tooth Whitening
More recently, Rancic had tooth whitening treatments. Depending on the degree of lightening needed, these can range from custom-fitted bleaching trays that you wear at home under the supervision of a dentist, to in-office whitening treatments that work in far less time. Both can be effective in lightening your teeth by six shades or more.
But if you need the ultimate in whitening, veneers may be the best option. These are fingernail-thin coatings, made of pearly-white porcelain or composite material, that are placed directly on the tooth surfaces. Realistic and durable, they can provide a "Hollywood white" smile that's ready for the red carpet.
Did Bill's cosmetic dental work really improve his life? We can't say for sure — but as his wife Giuliana recently told Dear Doctor, "First impressions are very important, and having a beautiful smile will help anyone make a great impact on others." So perhaps it worked on her!
If you would like more information on how cosmetic dental treatments can improve your smile, please contact us or schedule an appointment for a consultation. You can learn more about this topic in the Dear Doctor magazine articles "The Magic of Orthodontics" and "Important Teeth Whitening Questions Answered."
By James B. Howell, D.M.D.
September 08, 2014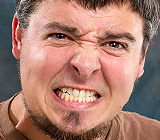 You may not realize it, but the simple act of eating can generate a tremendous amount of force on teeth and jaws. Fortunately, your teeth can absorb much of this biting force — but within limits. If the force exceeds normal limits on a continual basis, you may begin to notice aching teeth or sore jaws, and we may begin to notice unusual tooth wear during your dental checkups.
The most common cause for this is a chronic habit of grinding or clenching the teeth, also known as bruxism. It can manifest itself by teeth grinding against each other, teeth pressing against soft tissue (as with thumb-sucking) or biting or chewing on hard objects such as pencils or nails. We commonly see bruxism with patients who are experiencing excessive stress, sleep-related problems or as a result of lifestyle habits such as smoking or excessive alcohol consumption. You may not even be consciously aware of it as in the case of bruxism that occurs while you sleep, but your sore jaws in the morning (as well as your sleeping partner's complaints of noise) may be evidence of it.
Treatment involves a two-part approach. First, we want to relieve the pain symptoms and stop the damage. To relieve pain we'll often prescribe mild, anti-inflammatory or muscle-relaxant drugs, or perhaps medication to help you sleep better. We may also design a bite guard for wear on your upper teeth at night: the lower teeth will tend to glide or skate on the wear-resistant plastic and prevents them from placing excessive forces on your teeth.
The other part is to address the underlying cause for long-term results. If the habit arises from severe stress or other lifestyle issues, we may recommend biofeedback therapy or psychotherapy to improve your coping mechanisms. If an abnormality like a bad bite (malocclusion) is an underlying factor, we may recommend a minor bite adjustment by reshaping the teeth to lessen the bite impact.
The right course of action depends on a thorough dental examination to determine the exact nature of your clenching or grinding habit. From there we can discuss your options on how to relieve the soreness and pain, as well as prevent problems in the future.
If you would like more information on bruxism and its effects, please contact us or schedule an appointment for a consultation. You can also learn more about this topic by reading the Dear Doctor magazine article "Stress & Tooth Habits."
Louisville, KY Cosmetic Dentistry
James B. Howell, D.M.D.
3936 Dutchmans Lane
Louisville
,
KY
40207
(502) 899-7766