Dr. Howell's Dental Discussion
Posts for: April, 2015
By James B. Howell, D.M.D.
April 24, 2015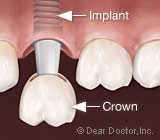 There's a lot to like about dental implants, today's state-of-the-art tooth-replacement system. We consider them the best choice for replacing missing teeth because implants are:
Healthy
You may not realize this, but when a tooth is missing, the bone underneath it begins to melt away. That's because bone needs constant stimulation to rebuild itself and stay healthy, and it receives this stimulation from teeth. It's a delicate balance that's disrupted by the loss of even one tooth. Because implants are made of biocompatible titanium, they actually fuse to the bone and prevent bone loss.
Strong
The fusion of implant to bone is an extremely solid connection. Not only does it offer a strong replacement for a missing tooth, but it can also offer support to other tooth-replacement methods such as fixed bridges or dentures. By themselves, these other methods would not preserve bone and might even hasten its loss in the case of dentures. But with implants, bone-loss is prevented — as is embarrassing and uncomfortable slippage of dentures.
Aesthetically Pleasing
When you receive your implant, it is left alone for a few months to complete the fusion process described above. Then it is topped with a crown made of a realistic tooth-like material. The result is so convincing as a tooth replacement, only you and your dentist may be able to tell it's not a natural tooth.
Long-Lasting
Dental implants have an amazing success rate — over 97%. And once they fuse to the jawbone, they should never need replacement. In fact, they will likely outlast the crowns to which they are attached, but this is not a problem. Implant crowns are precision components that detach for easy replacement, should the need arise.
Economical
Implants have a higher initial cost than other forms of tooth replacement, but when you consider how long they last, they are very economical. Consider it an investment in your health, appearance and self-confidence.
If you have any questions about dental implants, contact us today to schedule an appointment for an implant consultation.
You can read more about this topic in the Dear Doctor magazine article "The Hidden Consequences of Losing Teeth."
By James B. Howell, D.M.D.
April 09, 2015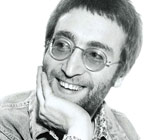 Lots of people collect Beatles memorabilia, but one Canadian dentist took this hobby to new heights recently when he paid $31,200 for John Lennon's molar at auction. According to published reports, Lennon had given the extracted tooth to his housekeeper as a souvenir in the 1960s after coming home from the dentist's office. The molar was discolored and had a cavity, according to the dentist who purchased it after the housekeeper's family put it up for bids. "For the cavity to be this large he probably wasn't seeing a dentist that regularly," the dentist said. His brushing and flossing routine may not have been that conscientious either!
For healthy teeth, it's important to have a good daily oral hygiene routine at home and regular professional cleanings here at the office. Our hygienist will scale your teeth to remove hard deposits (tartar), and polish them to remove stains for a wonderful, extra-clean feeling.
Dental hygienists are trained to do lots of other things to promote your oral health besides cleaning your teeth. They can check the skin in and around your mouth looking for any suspicious bumps, sores, etc., that may need further evaluation. They will also evaluate your periodontal health ("peri" – around; "odont" – tooth), checking for signs of gum inflammation and bleeding (gingivitis). And they monitor teeth for signs of decay, which is actually the world's most widespread disease.
Cavities, or dental caries as it is also known, are the most notable consequences of tooth decay. Left untreated, caries can lead to pain and tooth loss. John Lennon's dentist must have believed there was nothing more to be done for the badly decayed molar that later went on to fetch such a high price.
Unless you're a rock star, your teeth are worth a lot more in a healthy and functioning state — inside your mouth! So if it's been a while since your last appointment, please come in and see us. Remember: Good dental health is priceless.
If you would like more information on tooth decay, please contact us or schedule an appointment for a consultation. You can also learn more by reading the Dear Doctor magazine article, "Tooth Decay." Dear Doctor also has more on the "Dental Hygiene Visit."
Louisville, KY Cosmetic Dentistry
James B. Howell, D.M.D.
3936 Dutchmans Lane
Louisville
,
KY
40207
(502) 899-7766