Dr. Howell's Dental Discussion
Posts for tag: fillings
By James B. Howell, D.M.D.
April 28, 2014
Eliminate Tooth Decay with a Dental Filling
At some point in our lives most of us will end up with a cavity or two. A cavity brings attention to Dr. James Howell to remove the decay and place a filling. A dental filling is a type of dental restoration that is used to fix minor damage in teeth.
Having a dental filling placed in Louisville can greatly reduce the discomfort caused by damaged enamel. Dr. James Howell places only composite fillings which are metal free. These fillings have the advantage of conserving or saving tooth structure, so your fillings are smaller and look better. This goes a long way towards improved oral health.
The Procedure: Dental Fillings
At your regular dental check-ups with Dr. Howell, your gums, teeth and the supporting bone are thoroughly examined. Dr. Howell will be able to spot places within your mouth that have been damaged. When an area of decay is diagnosed, he will prepare your tooth or teeth to remove the decay and
place the tooth colored filling
.
Regular dental cleanings will enable Dr. Howell to remove any remaining bacteria and food debris before proceeding with your dental filling in Louisville. He will initially apply adhesives to the affected area before placing the composite material, which will be hardened using a special light source. The end result is a natural looking restoration.
Prevent Tooth Decay and Avoid Dental Fillings
Of course, active prevention is the best way to improve oral health and avoid the need for fillings. Follow these basic steps to prevent dental decay:
Brush three to four times daily with a fluoride toothpaste
Floss or use an interdental cleaner once daily
Eat a balanced diet low in processed sugars
Limit eating and drinking between meals
Visit our cosmetic dentistry office in Louisville regularly
Ask Dr. James Howell about dental sealants
Tooth decay is easily prevented by diet modifications, good home care and regular visits to Dr. James Howell's dental office in Louisville. It is always important to talk openly with your dentist to learn about the various ways you can protect and if necessary restore your teeth. For patients in Louisville, dental fillings may not solve every oral health issue, but Dr. James Howell will be able to accurately describe the best treatment options for each individual case.
By James B. Howell, D.M.D.
January 05, 2013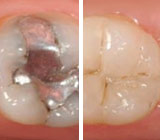 Cavities used to be nothing to smile about, but thanks to advances in technology, tooth-colored fillings have made repair of decayed teeth so natural, they're invisible. Now you no longer need to feel self-conscious about that unsightly flash of silver when you talk or laugh. While silver amalgam fillings were once the preferred option for tooth restoration filling materials, tooth-colored "composite resins" have gained popularity as a safe and effective alternative to treat new cavities or to replace old silver fillings.
A Better Alternative: Consumer demand for tooth-colored (metal free) restorations as well as the dental profession's desire to preserve as much natural tooth structure as possible has led to the development of special "adhesive" tooth-colored materials. Besides the aesthetic advantages over amalgam fillings, tooth-colored fillings require the removal of less tooth structure. While traditional silver fillings often crack or leak over time, composite resin fillings bond directly to tooth structure and actually reinforce and strengthen it while creating a natural looking smile.
The Choice is Yours: You can choose to replace unsightly silver fillings with tooth-colored ones to enhance their cosmetic appearance. Although concern has been expressed over the mercury content in older silver fillings, years of research cited by the American Dental Association has found that traditional amalgam fillings are safe. Unless you have cracks or damage to your current amalgam fillings or have other concerns regarding your dental health, replacing silver fillings is a matter of personal preference.
Cost: Although composite resin fillings may cost slightly more than silver fillings, they are very durable and may be more cost-effective in the long run.
Contact us today to schedule an appointment to discuss any questions you may have regarding tooth colored fillings. Read more about this topic in the Dear Doctor magazine article "The Natural Beauty of Tooth Colored Fillings."
Louisville, KY Cosmetic Dentistry
James B. Howell, D.M.D.
3936 Dutchmans Lane
Louisville
,
KY
40207
(502) 899-7766