Dr. Howell's Dental Discussion
Posts for tag: tmd
By James B. Howell, D.M.D.
November 06, 2015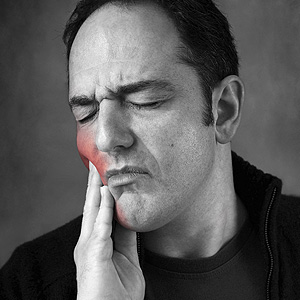 As many as 36 million adults in the U.S. suffer from some form of chronic jaw pain. What's more, many of these may also experience other painful conditions like arthritis or chronic fatigue in other parts of their body.
Chronic jaw pain is actually a group of difficult to define disorders collectively referred to as temporomandibular joint disorders (TMJD or also TMD). TMD not only refers to pain symptoms of the temporomandibular (jaw) joints but also of the jaw muscles and surrounding connective tissue. Most physicians and dentists agree TMD arises from a complex range of conditions involving inheritable factors, gender (many sufferers are women of childbearing age), environment and behavior.
A recent survey of approximately 1,500 TMD patients found that nearly two-thirds of them also suffered from three or more related health problems like fibromyalgia, chronic fatigue syndrome, rheumatoid arthritis, headaches, depression and problems sleeping. The understanding of TMD's connection with these other conditions is in its early stages of research, but there's avid interest among healthcare providers to learn more and possibly devise new treatments for TMD in coordination with these other related conditions.
In the meantime, TMD patients continue to respond best with the traditional approach to treatment, including physical therapy, thermal (hot or cold) compresses to the area of pain, medication and modifying the diet with more easier to chew foods. In extreme cases, jaw surgery may be recommended; however, success with this approach has been mixed, so it's advisable to get a second opinion before choosing to undergo a surgical procedure.
Hopefully, further study about TMD and its connection with other conditions may yield newer treatments to ease the pain and discomfort of all these conditions, including TMD. You can stay up to date on these and other developments for coping with the discomfort of TMD at www.tmj.org and through your healthcare provider team.
If you would like more information on TMD, please contact us or schedule an appointment for a consultation. You can also learn more about this topic by reading the Dear Doctor magazine article "Chronic Jaw Pain and Associated Conditions."
By James B. Howell, D.M.D.
November 01, 2012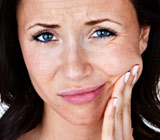 When it comes to chronic pain, one of the most common problems you can face is Temporomandibular Disorder (TMD), which was formerly known as Temporomandibular Joint Disorder (TMJ). TMD is a condition that can be tricky to diagnose because it frequently mimics other conditions. This is why many healthcare professionals refer to it as "the great imposter." However, regardless of what it is called, the pain it causes is real and can become quite severe — especially if left undiagnosed and untreated.
To grasp the condition fully, you must first understand the TMD pain cycle. It can start with any traumatic, psychological, metabolic, or mechanical stimulant that causes spasm in the muscles that move the jaw joints (opening, closing, chewing, and even smiling.) This is because of the constricted blood supply to the muscles resulting in less oxygen along with the accumulation of waste products. This is followed by chemical changes in the muscles and a buildup of lactic acid due to muscle fatigue. Abnormal or involuntary muscle contractions or spasms lead to pain signals to the brain that can stop muscle movement. Depending on the severity, this cycle can repeat itself resulting in acute pain that may be extremely severe at times. The pain may then seem to disappear only to resurface again later. The good news is that our office has highly trained professionals who cannot only diagnose but also treat your TMD.
If you suffer from chronic jaw pain and feel that you might have TMD, please let us know so that we can address your concerns and conduct a thorough history and examination. Or if you are in constant or severe pain, contact us immediately to schedule an appointment. You can learn more about the signs, symptoms, and treatment options for TMD by reading the article "TMD — Understanding The Great Imposter."
Louisville, KY Cosmetic Dentistry
James B. Howell, D.M.D.
3936 Dutchmans Lane
Louisville
,
KY
40207
(502) 899-7766